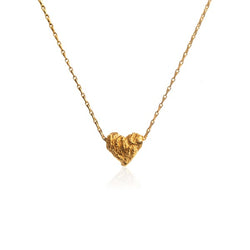 Gold Heart Necklace - Illusion collection
Handcrafted jewellery
22ct Gold Plated Sterling Silver
Geometric necklace
DESCRIPTION:
This handmade 22ct Gold Plated Silver Heart necklace belongs to Niza Huang's Illusion collection.
The Illusion collection is inspired by the idea of deceptiveness and the distortion of our perception of reality. 
It plays with the idea of what's real at the same time as representing persistence and strength through pure and solid jewellery pieces.
MATERIAL:
22ct Gold Plated Sterling Silver
DIMENSION:
The heart pendant measures approx. 11 x 10 x 6 mm.
The chain is 16".
Discover more about Niza Huang and check out the full collection.