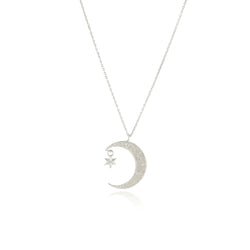 Crescent Moon and Star Necklace - Sterling Silver
Crescent Moon Necklace with Hanging Star
Recycled Sterling Silver 925

Handmade by London based Momocreatura
All the details have been marked by hand
Part of the Sun, Moon and Stars collection
Presenting the stunning Crescent Moon & Star Silver necklace by Momocreatura, featuring a Sterling Silver hanging Star. This necklace has been designed and handmade by London based Momoko Tamura, whom of which creates magical treasures such as this collection of celestial inspired jewellery. Note the details of this piece, such as the craters of the moon, have been hand etched by the maker. A true keepsake that has been made to last.
Material: Recycled Sterling Silver 925
Size: Moon: H.18mm x 14mm | Star: H: 5mm x 5mm | Chain: 40cm + 5cm
Discover more about Momocreatura and browse the full collection.