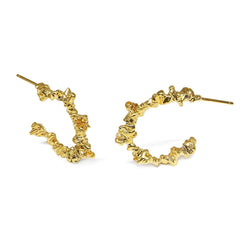 Gold Irregular Hoops - Under Earth Collection
Handmade jewellery
22ct Gold Plated Sterling Silver
Statement earring hoops
DESCRIPTION:
These Niza Huang's irregular gold hoops reflect the shapes and textures of the underground world.
These handcrafted statement earrings belong to the Under Earth collection which is inspired by the geological depths of our planet.
MATERIAL:
22ct Gold Plated Sterling Silver
DIMENSIONS:
The hoops measure approx. 30 x 30 x 6 mm
Discover more about Niza Huang and check out the full collection.