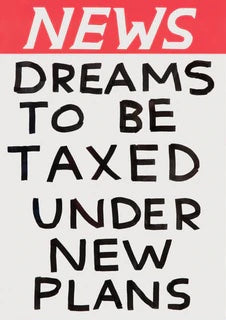 Dreams To Be Taxed - Fridge Magnet
Fridge Magnet by David Shrigley

Features Shrigley's signature illustration style and typography
Collectable item or a perfect gift to send in the post
Dreams To Be Taxed
is a Magnet made by UK based artist David Shrigley. Shrigley partners his tongue-in-cheek humour with his signature illustrative style to create these collectable items. The magnet can be displayed on any magnetic surface, sent to artist friend or for someone who spends their time staring to intently at art! Remember to keep those eye drops handy.
Measurements:
Magnet measures: 9 x 6.5 cm 
Packaged with backing card: Packaging: 10.5cm x 13cm.