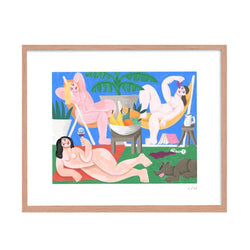 Art Print by French Artist Cédric Pierre-Bez aka Cé Pé
Inspired by Southern France, the artists birth place and home
High-resolution digital paintings, signed by Cé Pé
"Picnic" is a digital illustration made by French designer Cédric Pierre-Bez, also known as Cépé. These high-resolution prints are made using Tradition Rive 250g paper, showcasing the vibrant colours and tropical motifs. This print was inspired by the birth place and home of the artist, the South of France, and each print has been signed by Cé Pé himself. Build your home gallery and discover the latest artist in our growing Art collection.
Height 24cm x Width 30cm