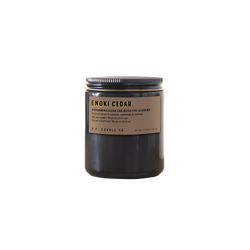 P.F. Candle Co.
Enoki Cedar – 7.2 oz Soy Candle
Cruelty Free and Paraben Free
Eco Candles by LA based P.F. Candle Co.
Petitgrain, sandalwood, rosemary
7.2 oz with 40-50hr burn time

100% soy wax with cotton wicks
DESCRIPTION: 
These eco soy wax candles have been hand poured in California which are then transported to our London boutique in 100% plastic free packaging. Enjoy 40 to 50 hours of pure bliss with these soy wax candles that are paraben and cruelty free.
DETAILS:

Made with 100% domestically grown soy wax.