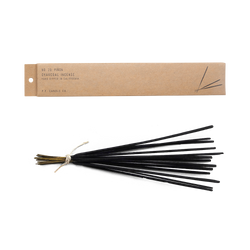 P.F. Candle Co.
No. 29 - Piñon Charcoal based Incense Sticks
Incense range by P.F. Candle Co.

Winters in the Southwest, lingering bonfires, wool jackets in rotation. Piñon logs, cedar, and vanilla.

Charcoal-based

Each incense stick burns for up to 1 hr
Hand-dipped in LA

DESCRIPTION:
These charcoal-based incense sticks have been handmade in California, which are then transported to our London boutique in kraft sleeves. 
HOW TO USE:

Light the end of the incense stick allowing the flame to burn for around 10-15 seconds. 
Blow on the flame to extinguish. 
The incense will now continue to burn on its own for up to 1 hr.
IMPORTANT:

Burn your incense sticks on a heatproof, non-flammable holder only.
Incense must burn in a well-ventilated room, away from flammable materials.
Never leave incense burning unattended.
Keep away from children, and pets.