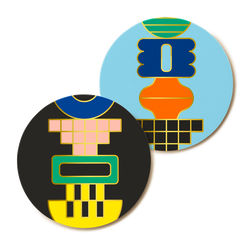 This set of 12 original coasters is an homage to playful architecture and Italian postmodernism. Life must be lived as play and all the things we build end up building us.

Made of durable and water resistant paper, each side of the coasters hosts the print in a different colour. Adorned with gold foil accents and packaged in a luxurious gift box, they are perfect for keeping surfaces dry in a stylish way - and will definitely make you shine at your next social event.

Yesterday is history, tomorrow is a mystery. Let the party begin.