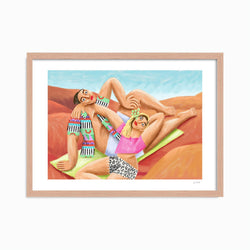 Digital Art Print by French Artist Cédric Pierre-Bez
Inspired by the light, life and colours of the South of France
High-Resolution Print signed by the artist
"Salagood" is an Art Print made by French designer Cédric Pierre-Bez, also known as Cé Pé. It is clear to see how the colour of Southern France inspired this piece, with it emitting so much life and vibrancy. This high-resolution digital print has been signed by the artist and made using Tradition Rive 250g paper.
Height 21cm x Width 30cm