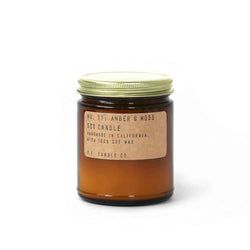 P.F. Candle Co.
No. 11 - Amber & Moss Soy Candle in Amber Glass
Eco Candles by LA based P.F. Candle Co.
Sage, Moss, and lavender
100% Soy Wax with Cotton Wicks

Cruelty Free and Paraben Free
DESCRIPTION:
The makers behind the independent candle brand P.F. Candle Co. present No. 11, an eco candle with notes of sage, moss, and lavender. As your candle burns in it's amber glass, which can be reused and repurposed, each layer reveals new scents inspired by the outdoors, the mountains, and the sun gleaming through the canopy. 
These eco soy wax candles have been hand poured in California which are then transported to our London boutique in 100% plastic free packaging. Enjoy 40 to 50 hours of pure bliss with these soy wax candles that are paraben and cruelty free.
Available in 2 sizes : 
7.2 oz with 40-50hr burn time
12.5 oz with 60-70hr burn time
DETAILS:
Made with 100% domestically grown soy wax.