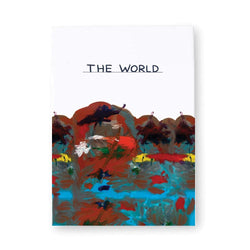 The World - Fridge Magnet
Fridge Magnet by David Shrigley

Features Shrigley's signature illustration style and typography
Collectable item or a perfect gift to send in the post
The World magnet is a collectable art item by Scottish artist and illustrator David Shrigley. Featuring Shrigley's signature illustrative style and tongue-in-cheek depiction of daily life, this magnet can be displayed as a mini artwork on any magnetic surface.
Measurements:
Magnet measures: 9 x 6.5 cm 
Packaged with backing card: Packaging: 10.5cm x 13cm.
Designed and Produced by Third Drawer Down Studio