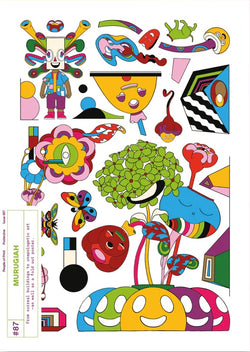 Posterzine®
Posterzine® Issue 87 | Murugiah Limited Edition
Posterzine

A1 format poster (594x841mm)
DESCRIPTION 
For our 87th issue of Posterzine® Murugiah, a London-based artist, known and loved for his upbeat psychedelic imaginings tells us about his first love (movies), training as an architect, and his journey to understanding his Sri Lankan heritage. 
His surreal characters and subversions of natural forms continue to win the artist work from all kinds of major brands, from Disney, to Facebook, to Vans. Alongside his brand collaborations, the artist's personal work explores more sombre subjects—from mental health to climate change—in his contrastingly joyful style.
Posterzine® is People of Print's monthly publishing project taking the form of a mini-magazine which folds out into a gorgeous A1 format poster (594x841mm). Printed by Pressision Ltd using two special Pantone spot colours or CMYK. 

Direction: Marcroy Smith
Design: Tom Sutcliffe
Interview: Kate Hollowood
Limited edition.