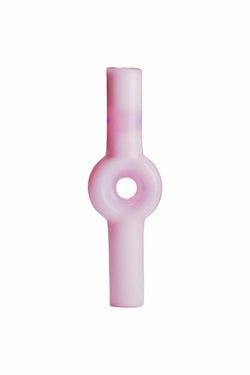 Laundry Day
'Charlotte' Hand-blown Glass Pipe - Milky Pink
Hand-Blown Glass Pipe by Independent brand Laundry Day
Contemporary Smoking Accessory 
Presented in a keep sake Gift Box
Durable and functional 
DESCRIPTION:
Victoria Ashley founded Laundry Day to create contemporary smokeware to provide a modern design product to cater to modern day voices. These stunning designs are made using hand-blown glass which makes each glass pipes unique with their own details and characteristics.
Laundry Day hopes to dispel old-fashioned taboos and create fun and functional products for those seeking contemporary smoking accessories. The 'Charlotte' pipe 4.5 inches in length and is presented in a funky gift box which can be kept as a keep-sake or be used as a gift box.
DETAILS:
Colour: Milky Pink
Approx. 4.5" in length x 0.5 Inches in Diameter x 1.75" bowl depth
Material: The Milk Glass is hand blown so each pipe will present imperfect characteristics but still in-keeping with their flawless and functional design.