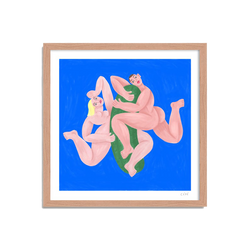 Cépé
"Love Trio" Art Print
Art Print by French Artist Cédric Pierre-Bez aka Cé Pé
Collaboration with the French Magazine Club Sandwich for their gherkin edition
High-resolution digital paintings, signed by Cé Pé
"Love Trio" is a digital illustration made by French designer Cédric Pierre-Bez, also known as Cépé. These high-resolution prints are made using Tradition Rive 250g paper, showcasing vibrant colours and a fun ode to gherkins!
This print was created for a special collaboration with Club Sandwich, a humorous independent annual magazine published in Paris. Each issue focuses on a particular food.
Each print has been signed by Cé Pé himself. This is a great print to add an eclectic and bold touch to your home gallery.
Framing option available on request. Framing artwork is only available for collection at our boutique.
Height 30cm x Width 30cm