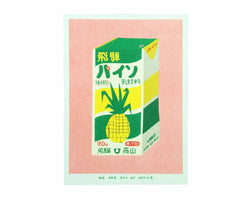 Pineapple Juice - Japanese Print
Japanese pineapple juice print

Size 13 * 18 cm

Risograph print - 4 colours

Designer & printed in Netherland using soy ink and Biotop paper 300 gsm

White border of roughly 1 cm
We Are Out of Office is taking inspiration from colourful Japanese packaging.
This risograph print illustrates a Japanese pineapple juice. This artwork will bring a contemporary touch to your interior.
What are risograph prints?
Risograph prints are one of a kind. Riso printing is spot colour based uses soy bean oil instead of a toner. One of the main characteristics is that riso printers will only print one colour at a time which, like in screen printing, will create unique textures that cannot be replicated. 
One of the first studios where the riso movement originated years ago was in the Netherlands, where We Are Out of Office are from.
Browse the collection of We are Out of Office prints.