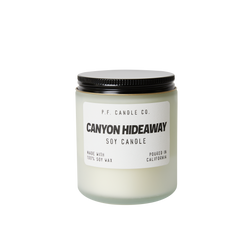 P.F. Candle Co.
Canyon Hideaway – 7.2 oz Soy Candle
Cruelty Free and Paraben Free
Eco Candles by LA based P.F. Candle Co.
Smoked juniper, leather, ginger root and close leaf
7.2 oz with 40-50hr burn time
100% soy wax with cotton wicks
DESCRIPTION: 
Winding drives with the windows down, bohemian cabins tucked amongst California oaks, the aroma of sun-baked earth and chaparral. Woody, smoky, warm, and resinous. Smoked juniper, leather, ginger root, and clove leaf.
These eco soy wax candles have been hand poured in California which are then transported to our London boutique in 100% plastic free packaging. Enjoy 40 to 50 hours of pure bliss with these soy wax candles that are paraben and cruelty free.
DETAILS:

Made with 100% domestically grown soy wax.