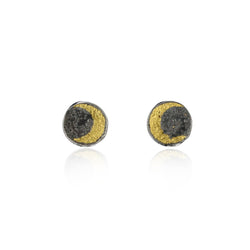 Gold x Black Moon Disc Earrings
23k Gold Plated Sterling Silver x Oxidised Sterling Silver

Hand crafted by London based maker Momoko Tamura

Features the golden cresent moon against an Silver night sky

Part of the Sun, Moon and Stars collection
The 23k Gold Plated Moon Disc Earrings are part of designer Momocreatura's Sun, Moon and Stars collection. Momoko Tamura creates handmade, timeless and unique pieces of jewellery from her studio in London. These pieces were inspired by the fascination of the celestial throughout human history, emulating looking up at the moon in the night sky and capturing that beauty as trinkets you can wear. Each item holds intricate details, such as the moons craters, individually marked by hand. Step into the mystical world of Momocreatura.

Material: 23k Hard Gold Plated Sterling Silver x Oxidised Sterling Silver

Size: H:12mm x W:12mm 
Dive into the mystic with Momocreatura and discover the full range.