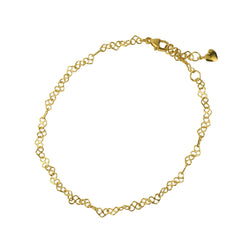 Full of heart chain bracelet - Gold Plated
24k Gold plated Sterling Silver

 Chain bracelet
Elaborate heart link chain
Delicately designed and crafted with a tiny heart charm at the end of the chain

Part of the In Death, Love Survives collection
The Full of heart chain bracelet is part of designer Momocreatura's In Death, Love Survives collection. 
The chain is adorned with a small heart charm, and is crafted in 24kt Gold Plated Sterling Silver.
Step into the mystical world of Momocreatura. 
Material: 24kt hard gold plated Sterling Silver 
Measurements: Chain: L 18 cm | Adjustable links are at 15cm (6") , 16.5cm (6.5"), and 18cm (7") | Chain Link Size around 5 x 3 mm
To know a bit more about Momocreatura, read her interview on Cuemars Journal.
Discover the full range of Momocreatura Jewellery.