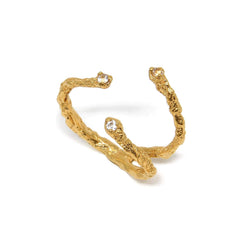 Moments 3 Topaz stones ring - Gold
Handcrafted jewellery
22ct Gold Plated Sterling Silver 
3 White Topaz
Statement ring
DESCRIPTION:
This handmade 22ct Gold Plated Silver ring belongs to Niza Huang's Moments collection.
The Moments collection wants to capture the human emotions, passions and instants that make our lives unique and special. 
The abstract claw shape of this ring characterises this collection. This shape echoes our desire to reach out and capture the essence of every special moment that we live.
MATERIAL:
22ct Gold Plated Silver + 3 White Topaz
DIMENSION:
This ring measures approx. 20 x 18 x 12 mm
SIZE:
US 5.5 - 6 (adjustable)


To know a bit more about Niza Huang, read her interview on Cuemars Journal.
Browse Niza Huang full collection.
If you are not sure about your size,  we have created an easy guide to measure your ring size.