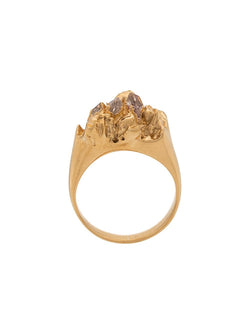 Gold textured Herkimer Diamond ring - Under Earth Collection
22ct Gold plated Sterling Silver
Handmade jewellery
Embellished with Herkimer diamond gemstones
Statement ring
DESCRIPTION:
This Niza Huang's textured ring evokes the intricate shapes of natural rock. 
This handcrafted ring is embellished with the mystical Herkimer diamond gemstones making this ring a perfect statement piece of jewellery.
This ring belongs to the Under Earth Collection which is inspired by the geological depths of our planet. 

MATERIAL:
22ct Gold plated Sterling Silver + Herkimer diamonds

DIMENSIONS:
The ring measures approx. 27 x 17 mm

SIZE:
US 5.5
Discover Niza Huang full collection.
If you are not sure about your size,  we have created an easy guide to measure your ring size.