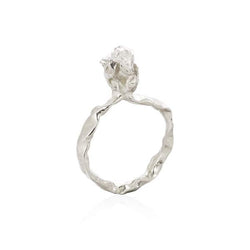 Crush One Stone Ring - Silver
Solid Sterling Silver + Herkimer diamond quartz
Handmade Jewellery
Statement ring
COLLECTION:
The Crush One Stone ring belongs to Niza Huang's Crush collection. 
The Crush collection is composed of handmade pieces with unusual textures that reflect nature with bold shapes mirroring mountains to the dramatic formations of lava.
The Crush One Stone ring is embellished with a Herkimer diamond quartz to add elegance and uniqueness to the design. 
Learn more about the designer anad maker, Niza Huang, in this exclusive interview for the Cuemars Journal.
Browse Niza Huang full collection.
MATERIAL:
Solid Sterling Silver + Herkimer diamond quartz
DIMENSIONS:
The band measures approx. 28 x 20 x 8 mm
SIZE:
US 3.75
*If you are not sure about your size,  we have created an easy guide to measure your ring size.