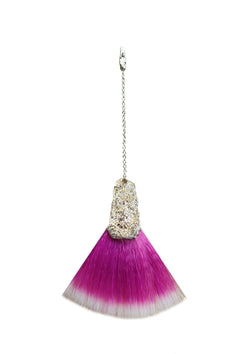 Canvas Dangle Earrings - Purple & White
Handcrafted jewellery
Eye-catching earring
Neon colours
DESCRIPTION:
This earring is inspired by a paint brush and has been created for the Canvas collection by the London-based womenswear label SHAO YEN.
The Canvas collection is inspired by Vincent Van Gogh's Sunflowers and its raw brush strokes and textures.
MATERIALS:
Brass with Silver filled earring post (Safe against allergic reactions) & Fibre brush
DIMENSION:
This earring measures approx. 100 x 60 mm
Important
The Canvas Dangle earrings are sold separately. To order a pair, please select 2 pieces.
To know a bit more about Niza Huang, read her interview on Cuemars Journal.
Browse Niza Huang full collection.