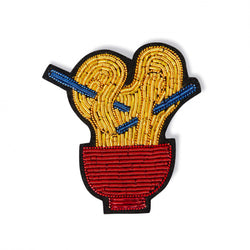 Hand embroidered brooch
Made in Pakistan

Using the ancient Indo-Pakistani technique with bullion thread
DESCRIPTION:
Ramen is a hand embroidered brooch designed and made by Marie Macon and Anne-Laure Lesquoy from Macon et Lesquoy. 
Their brooches are inspired by their various trips around the world, from Rwanda to Detroit and Pondichery to Japan.
Fun, bold, and full of colour, these brooches will seduce on all occasions!
MEASUREMENTS: Approx 4.1 x 3.9 cm
CARE:
Due to their handmade nature, the brooches can be delicate. 
Avoid water and dry cleaning.
Avoid friction as much as possible.
If a metal thread sticks out, do not pull it. Cut it as short as possible without bending it.