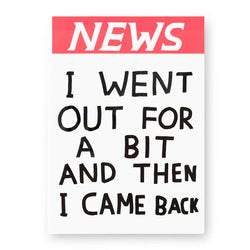 News: I went out for a bit and then came back - Fridge Magnet
Breaking News Magnet by David Shrigley 
Featuring original artwork in Shrigley's signature style

In collaboration with Third Drawer Down Studio
Magnet designed by artist and illustrator David Shrigley in collaboration with Third Drawer Down Studio. This magnet can be displayed on the fridge, sent to a friend in the post or stuck onto any metal surface waiting to be adorned! This collectable item features Shrigley's signature typographic style.
Details:
Packaged with backing card. Packaging: 10.5cm x 13cm.
Magnet: 9cm x 6.5cm.

Produced and Distributed by Third Drawer Down Studio